SEO marketers preparing for the rise of voice search should heed the advice given to us by an eccentric Canadian philosopher in 1964: "The medium is the message."
Marshall McLuhan's famous maxim wasn't designed as a call to arms for SEO professionals in 2018 — but its central idea is crucial for anyone hoping to give their customers the best possible digital experience in the new era of Alexa, Siri, Cortana and Google Home.
As with the explosion of mobile devices in the early 2000's, there is a new trend pushing user content and buying experiences toward speech-based, spoken-aloud voice searches that presents marketers with a new medium to grapple with, and a demand for a new approach to content.
Voice Search and SEO Trends in 2018
There should be no doubt voice-based interfaces are steadily gaining favor as a new way to interact with the digital world:
In 2017, VoiceLabs predicts there will be 24.5 million voice-first devices shipped, leading to a total device footprint of 33 million voice-first devices in circulation
In an Alameda survey of the priorities of 39 SEO experts, Voice Search was third on the list
The 2017 Internet Trends Report revealed 25% of Bing searches are done by voice and that by 2020 at least 50% of search will be speech or image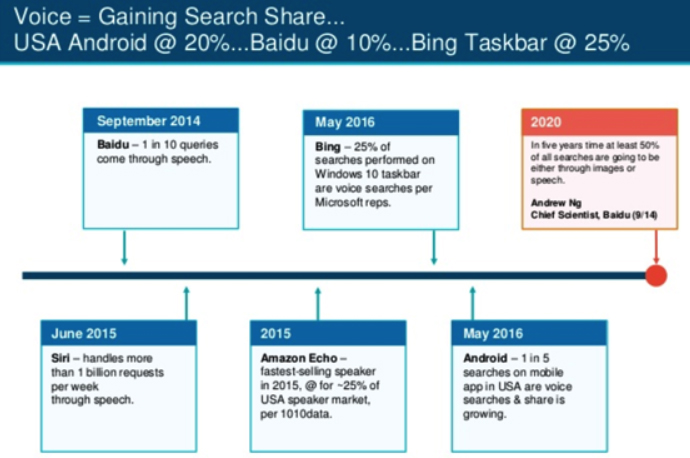 The next logical question is: How is voice search different from desktop and mobile search?
Voice search is different: local, mobile and conversational
SEO marketers who've been around long enough to remember the proliferation of mobile search should keep in mind a key lesson from that era, as they look to the future of voice.
Back then, when users made the switch to smaller screens and mobile search engines, SEO professionals realized the way people searched, the keywords and the syntax they used, were very similar. It was all "search engine talk."
But there was one key difference: mobile phones were equipped with special features like GPS, and the nature of the device meant users were on the go when making their searches (and often, much more likely to act!) As a result, there was an astronomical rise in the importance of "near me" in searches. The war was on to own local page results. Instead of asking for "Best pizza in Boston," people asked instead "best pizza places, near me."
This meant SEO professionals had to quickly move to take advantage of the new trend — and optimize their content to make things like store location, operating hours, and user reviews simple and obvious for Google's algorithms. Moreover, mobile search is going even further with further evolution that includes the introduction of AMP and PWA apps that again are changing how experiences are being delivered. A lot of the changes for mobile were tied directly to search and elevating your experience, site, content to score as high as possible on Google.
With voice-based search, a similar change in tact is necessary – but on a far more extreme level.
Voice search isn't just a new technology, it's a completely new interface, one is more conversational, more human-like by definition, than the old "search engine talk."
Voice search is highly local-centric: According to the Internet Trends Report 2016, 22 percent of people are using voice for local businesses, content, and information. This should be no surprise when we consider that voice search is highly mobile, in nature, too.
Voice search is everywhere: Just like the GPS feature, we have a voice assistant on our phones, devices at home, our cables boxes and it is included out of the box. While voice-first devices like Amazon Echo are on the rise, content and experiences on your mobile device are the major drivers of voice search, but in the next 12 to 24-months voice search will be increasingly available. Google's CEO Sundar Pichai says voice is used in 1 in 5 searches on the Google mobile app. As a marketer, you can start with mobile. For tomorrow, look everywhere as those same voice searches will be focused on software versus mobile and allow distribution of that content anywhere.
Voice search is longer, more conversational: When we type our search, we use short phrases because it saves us effort. When we ask our AI assistant, we use more words with less effort, and we speak more conversationally. As you can see in the chart below, taken from this research, voice has more success in the longtail, where more words are used: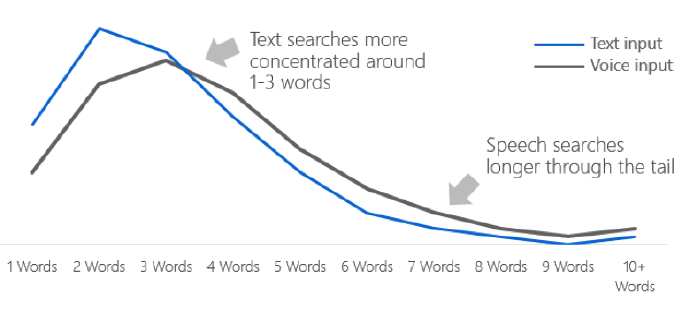 But this isn't your basic longtail searches. Longer, voice searches tend to include more "question words," and are asked by users looking for immediate answers (and service). "Where can I buy running shoes," or "How much is a flight to San Diego," for example. Compare that to typical desktop searches like "Boston running shoes" or "cheap flight to San Diego."
Something to point out here: When a user is asking a question, that's a signal that they are closer to buying or acting, than just poking around and doing research: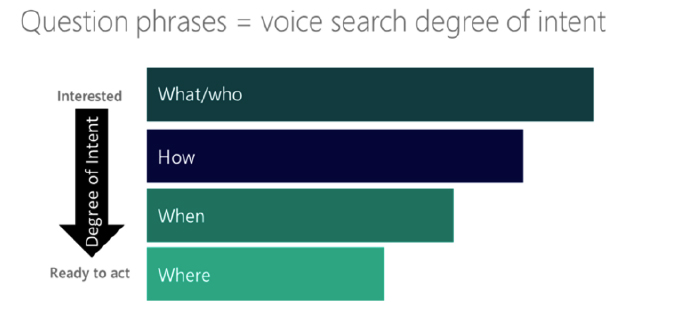 Now that we have seen how voice search is different, how can marketers take action and win the best possible page result?
Best Practices for Voice Search SEO:
Like McLuhan would say, with this new medium of voice search, a new message is in order. Here are a few ways marketers and SEO professionals can get ready for the voice search phenomenon:
1. Optimize for conversational, question-based queries: Your page content should reflect the voice of your customers, literally. Businesses should focus on creating numerous assets that echo the way customers ask for information. We have seen numerous tactics suggested from experts, from creating long and robust FAQ pages, to creating multiple individual blog posts, each one designed to answer a specific customer question in the way customers ask that question. (Headline: "Where can I find great sushi in Toronto?")

As a starting point, do some research and find out how your customers actually ask questions. Right now, Google doesn't segment voice search data from other sources in Google Dashboard (but it will soon, apparently). Instead, do it the old fashion way: record calls with actual people, have your reps take notes, put together a comprehensive list, and start creating content modeled after the real speech of your users.

You might also want to check out a tool called Answer the Public — enter a few keywords and it will show you a mosaic of questions related to that query. This should help you define part of your longtail content strategy.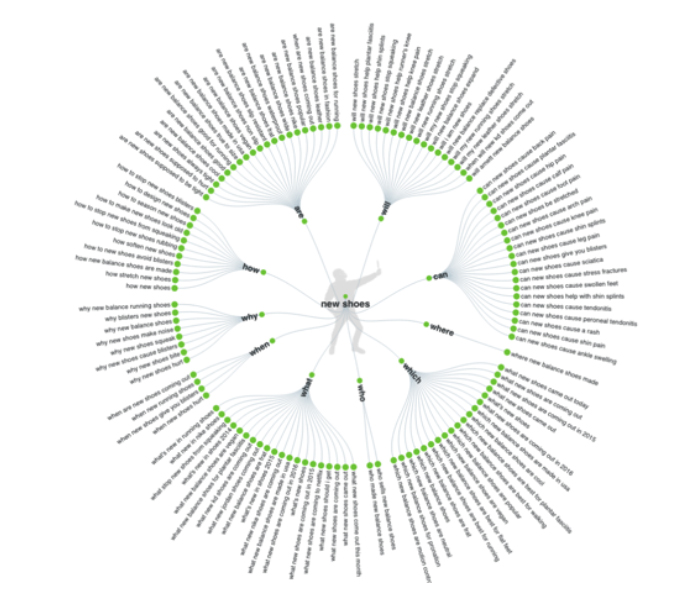 2. Optimize for mobile and local: As we said above, voice search is very often done from mobile devices. If you haven't already optimized your content for mobile search, it's high time you did!
Aside from adding responsive design, you should also do a full schema review and optimization for mobile search engines. Schema, or structured data markup, is basically metadata, and it makes it easier for search engines to find relevant content for the user. So, when a user is on a mobile device, Google will prefer page results that have relevant mobile information, such as store hours, location and a phone number. Make sure these key building blocks of the local, mobile user experience are clear.

3. Focus on prime real estate, like AI assistants, and Google Snippets: When a voice assistant like Siri or Alexa is assistant is asked a question, it doesn't just take the top page result and read it out loud. It first looks for something you have probably seen before, called a featured snippet. Essentially, a snippet is a rich, informative and useful little cut-out at the top of the page results to give you your answer. AI assistants love these things! They often pull them up first when trying to answer a question.

While there is no silver bullet for getting in the coverted #0 spot needed to be featured in the snippets, there is plenty you can do to help. To start with, you should claim your business on "Google My Business," and tell Google everything it needs to know about your business category, your address, phone number, hours and more. The schema optimization described above will also help.

It's also worthwhile looking into an investment in plugging in directly to the major AI assistant platforms and ecosystems. Many of the existing players have API's that allow brands and businesses to create custom user experiences on their platform, such as "Skills" on Alexa, or "Actions" on Google. Think of these API's as the new App Store. The businesses who create the best Alexa Skills or the most powerful Actions on Google will be a step ahead of the competition. Find some inspiration for how your business might add to the ecosystem, here.
Get ready for Voice Search, today!
No one can deny the rise of voice search taking place in the digital world. And just like the mobile era before it, SEO professionals have both an opportunity and a challenge ahead. The opportunity is to deliver amazing user experiences, likely at the stage closest to making a purchase (mobile and on the go!) The challenge is evolving the content, tone, and structure of your online presence so you don't fall into voice oblivion! At Backbone, we are evolving our capabilities for SEO and search marketing to include new voice capabilities helping companies achieve what we call Information-based SEO using specific story telling and experience models. With this medium, your content is focused on utilizing new information based systems like Voice SEO, video, and AR to effectively use your words, design and content to win the search wars. Standard SEO isn't enough, good content isn't enough, today's search requires you to build a conversation around your brand and allow the search engines to capture that conversation leading you to better results and conversions.